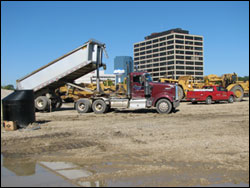 Dispatch:
Our experienced dispatch team will help you with your time sensitive material and hauling needs.

Through a combination of experience and technology our dispatch office can provide you with up to the minute status of your truck and material.

Our people understand the ever-changing demands of the construction industry, and are well qualified to help you get what you need, when you need it.

To place an order, call our dispatchers at (815) 728-3057. Normal business hours are Monday-Friday 6:00am-5:00pm. After business hours or for emergencies, call (815) 728-3057 and press 1 to reach our dispatcher on call.